Scott's Cottage and Temlett House

From the book: Rex & Barbara Reynolds. 1974. Grahamstown, from Cottage to Villa. Cape Town: David Philip. [Editing by G. Russell].

Double-storied Cottages

The earliest double-storied cottages with pitched roofs were built of stone and consisted of two rooms on the ground floor and two on the first floor, the width of the house being determined by the length of the available timber for the floor joists. One of the earliest surviving cottages of this type is known as 'Scott's Farm Cottage', and in it Colonel H. M. Scott is reputed to have lived when he was in command of the forces at Grahamstown from 1821
[early 1822] to 1823, although the transfer deed was only issued in May 1851. After Colonel Scott's departure the house was [eventually] occupied by the Marshall family, members of Clarke's party of settlers [having had a whole string of owners between Scott and Marshall], and it remained in possession of this family under the name 'Blackbeard', until 1970 [actually 1966] when it was expropriated for a new housing scheme and scheduled for demolition.
However, Historic Grahamstown's restoration programme had started by this time and Mr. lan Mackenzie made possible what was one of the first operations of its kind in South Africa. Careful architect's drawings were made of it before it was dismantled and the timber and joinery numbered before it was stored. After a lapse of nearly three years it has now been re-erected and, with some of its original settler furnishings, it will be open to the public as a place of cultural interest. The overall dimensions are approximately 27 by 15 feet and the ground-floor headroom is just over 7 ft. 2 in. The two first-floor rooms, separated by a single board partition, are 4 ft. 5 in. high at the eaves and 7 ft. 6 in. in the middle under the roof ridge. In order to see out of the small four-paned casement windows it is necessary to sit or lie down on the bed.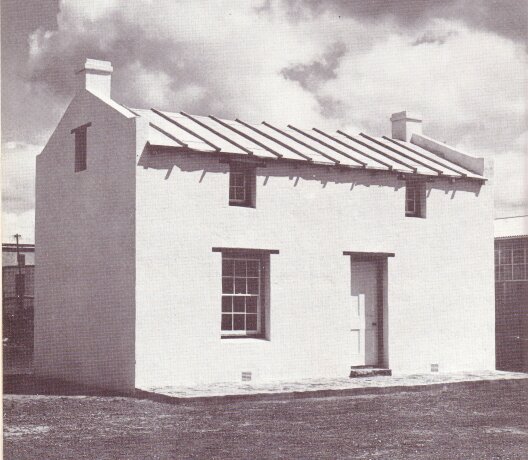 'Scott's Farm Cottage', a very early type of double-storied cottage. The original building was of stone but for economy's sake it was rebuilt in brick. The cottage was placed in its new position so that it faced towards Makana 's Kop, as legend has it that from the upstairs windows Scott could keep an eye on this famous hill where the AmaXhosa massed before the Battle of Grahamstown in 1819.
Following the re-erection of Scott's Cottage behind Temlett House in the seventies, it was decorated with all the original furnishings and fittings, much of that material having originally belonged to Gladys's grandfather, Edward Henry Marshall. At one point Temlett House was apparently used as a Rhodes University residence annex. Both Temlett House and Scott's Cottage are Provincial Heritage sites.
Things have since changed and the property is now apparently owned by a Pakistani national and used for commercial purposes. Scott's Cottage has been illegally altered and the area around it has been raised to create a parking area. So much for Heritage. (I am writing this in Heritage Month, so the irony is particularly intense).
This is a far cry from the description given by Hans Fransen in his 1978 Guide to the museums of Southern Africa:
In the spacious garden at the back, laid out in formal style with sundial and pillared rose garden, stands yet another old house. It is 'Scott's Farm Cottage', which was rescued from its original site, north of the city, to be re-erected here.


A photo taken recently by Charl Malan from the back of the Temlett House property showing the position of Scott's Cottage.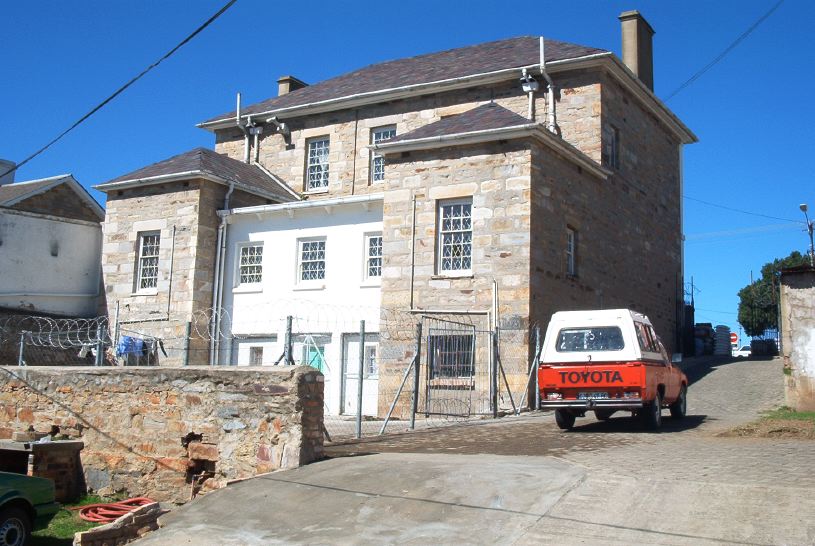 Temlett House seen from behind. Photo: William Jervois.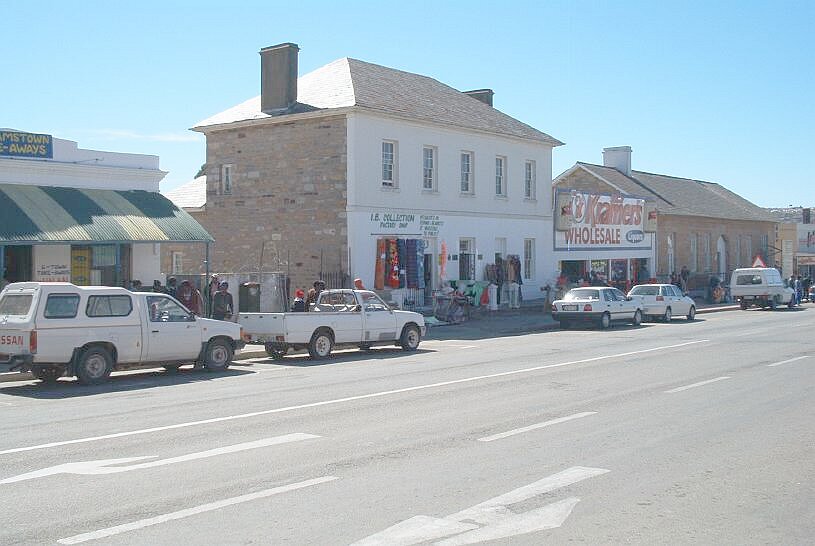 The street scene in Beaufort St, showing the front of Temlett House. Photo: William Jervois.





The plaques mounted at Temlett House by the National Monuments Council. Photo: William Jervois.

Thanks to William Jervois and Charl Malan for pictures and notes.

Back to Gladys's Index Page