This article was published in the CSA Journal, 3(3): 131-133, May-Jun 2003, with the pictures published in the following issue (Jul-Aug 2003), p 184.



CYMBIDIUM JEAN BRUMMITT
- THE REAL THING

It has been almost sixty years since Cymbidium Jean Brummitt was registered as a hybrid between C. eburneum and C. devonianum. During this period, much has been written and said about the enigmatic plants bearing this name. In the 1990 Orchid Advocate (16(2): 52-4), Paul Gripp wrote about this orchid and concluded that the C. Jean Brummitt plants in cultivation were all misnamed C. Langleyense (C. lowianum x C. devonianum).
I first became interested in Cymbidium Jean Brummitt in about 1980 on seeing an illustration of one of its progeny, C. Coquette 'La Passionata' B/CSA in a 1965 issue of Cymbidium Society News (20(5): 11), a clone which I have unfortunately never been able to track down. As a next best option, I ordered a plant of C. Jean Brummitt from Santa Barbara Orchid Estate and set about breeding with it at the first possible opportunity. To date my best hybrids of C. Jean Brummitt have come through the combination with C. Hamsey 'The Globe', a cross I registered as C. Scarborough in 1993, named for a little village here on the Cape Peninsula of South Africa.
Toward the end of 1982, I noticed an interesting advert in the Australian Orchid Review of June 1980. Udai C. Pradhan of Kalimpong, India was offering seedlings of the cross Cymbidium eburneum 'White Elephant' x C. devonianum 'Cobra Eyes'. I wrote to Udai, but received no reply.
In mid-March 1994, I visited North India and Nepal. Naturally, my itinerary included Kalimpong; the Orchid Capital of India. Kalimpong is a fascinating town straddling a ridge in the foothills of the Himalayas at an altitude of about 4,300 feet. There were quite a number of orchid nurseries in Kalimpong, the majority of those I visited being owned by people bearing the family name Pradhan. As a result of CITES restrictions as well as the 'Agitation' (activities of the Gorkha National Liberation Front - 1985-9), the orchid industry of Kalimpong had gone into a slump, although by 1994 it was beginning to pick up again.
A visit to Kalimpong is a worthwhile venture. One has the opportunity to visit a number of nurseries, and even better, to meet two of the most wonderful orchid people, Udai C. Pradhan and Ganesh Mani Pradhan. Both names will be familiar to those who have read through volumes of the Orchid Digest and the American Orchid Society Bulletin dating from the 1970's and early 1980's.
On arriving in Kalimpong, we checked in at the Deki Lodge ($5.00 per night for a double room) and had some lunch. The manager and chef at the lodge, Khamil, is an excellent cook. In the afternoon, I took a walk along Rishi Road, east of the town and eventually located Udai Pradhan's nursery, high on a hill on the north side of the road. I made an appointment to visit the nursery the following afternoon.
My travelling companion on this trip was my mother, at this time just four days short of her seventieth birthday. The following day, running late for our appointment, we had to move rapidly along the two or so miles of Rishi Road to the nursery. Asian women somehow manage to mince around in the most feminine way, so the sight of Mother, who has never been accused of being the epitome of femininity, striding with purpose along the road in hiking boots, meant that our progress was attended by hoots of laughter from the locals, some of whom were reduced to tears and even collapse. Two days later when I was seen walking that same stretch of road alone, I was asked at least a dozen times: "Where's Auntie ?", followed by further laughter.
Udai C. Pradhan is a man with broad botanical interests. Apart from his orchid works, which include the two volume Indian Orchids - Identification and Culture, he has published works on Arisaema, Rhododendron and Primula and has also edited a journal dealing with the flora of the Himalayas. His orchid breeding work appears to be centred around miniature cattleyas and novelty cymbidiums.
During our conversation, prior to examining his collection, I mentioned my great interest in Cymbidium Jean Brummitt and I was informed that there were 2 clones of the cross that had been advertised in the 1980 Australian Orchid Review in flower at the nursery. My letter of 1982 had apparently never arrived, something which does not surprise me; the letters I wrote to friends and posted in Kalimpong never arrived at their intended destinations.
Udai's Cymbidium treasure-house was located on the roof of his office and here, under shade-cloth, were such wonders as a variegated C. eburneum, other beautiful clones of C. eburneum including the rather large-flowered 'White Elephant', the recurrent flowering C. Mount Kabru (C. munronianum x C. tigrinum), C. Langleyense, C. Dryden and, of course, the two beautifully-grown and beautiful plants of the 'real' C. Jean Brummitt. Plants of C. devonianum were unfortunately still only in early spike at the time I was there.
The real Cymbidium Jean Brummitt is a very handsome plant. It does not resemble the plants hitherto grown under that name. The leaves are about 15 inches long and fairly wide. The flowers are about two inches across and taller than wide, as the petals are somewhat rabbit-eared. The tepal colour is yellowish-buff with light reddish stippling, the latter especially noticeable on the petals. The C. eburneum influence has reduced the lip-colour of C. devonianum to an essentially dotted lip with some blushing along the lip margin. The spikes I saw held eight to ten flowers and as the plants were mature, this count probably represents the maximum.
The flower-count figure is higher than one would expect if one were to apply the classical formula, where the expected flower-count is determined by finding the square root of the product of the parental flower-counts. Cymbidium eburneum is usually seen with one flower and C. devonianum has about thirty, so one would expect their hybrid to have five to six flowers. Most of the clones of C. eburneum which I saw in North India actually had two flowers per spike and as a local plant had been used to make this hybrid, this would make our expected flower-count rise to seven to eight. With an extra one or two thrown in for hybrid vigour, eight to ten becomes just right.
I foresee problems arising with the naming of these plants, as well as with the registration of any hybrid progeny. The long history of the association of the name C. Jean Brummitt with plants which are probably C. Langleyense means that we have some sort of strange precedence here. It will be interesting to see how the Orchid Registrar and his associates deal with this problem.
We can now be certain that the Cymbidium Jean Brummitt of common cultivation is not as registered.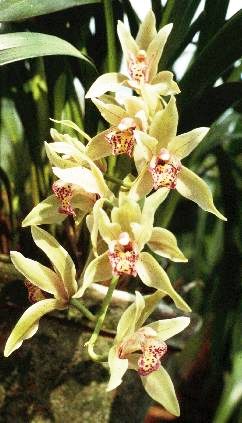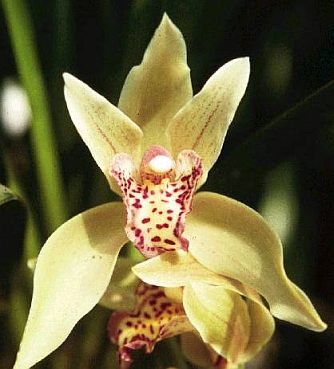 One of the two clones of the Real Cymbidium Jean Brummitt, flowered by Udai Pradhan, Kalimpong, India, photographed March 1994.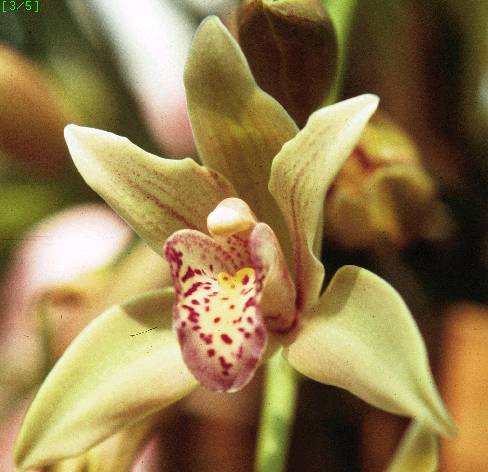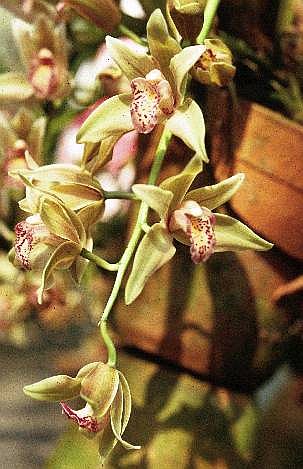 Two images of the other clone, photographed at the same time.


Contact address:

© 2003-2011 Greig Russell

This page was updated on 11th May 2009.

HOME